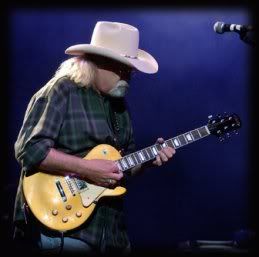 I guess we who take the highway
are a different breed of men
with a special kind of feeling
for the ones who we call friend.
It's a late night conversation
in a thousand hotel rooms
or an arm around your shoulder when the morning comes too soon.
It'a flood in Sacramento
or a blizzard in St. Paul
and it takes a tough old soldier
to keep going through it all.
But we're not much more than human, when we loseWeight Exercise one of our own
Now there's one more empty saddle,
This old cowboy has gone home.
R.I.P. George
Charlie Daniels
Marshall Tucker Band founding member and rhythm guitarist George McCorkle lost his battle with cancer last Friday. George was responsible for writing my favorite M.T.B. song and probably one of the top 10 southern rock songs ever, Fire on the Mountain.
Fuck Cancer.